Akshay Kumar would have been "a retired model somewhere" (like he said), had it not been for a flight not taken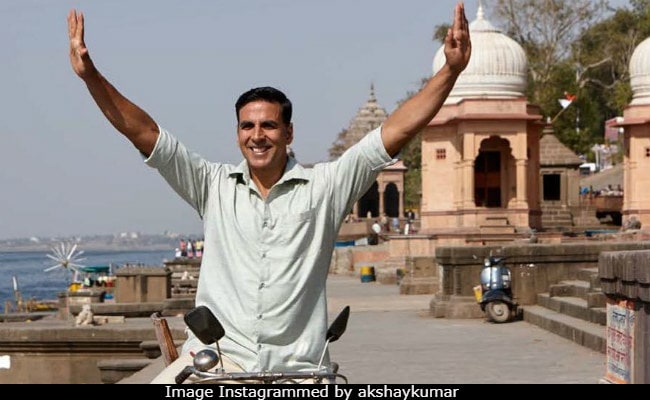 Akshay Kumar will next be seen in Padman (courtesy akshaykumar)
Missing a flight can actually turn out to be a lucky accident IRL. Take the case of Akshay Kumar for example. The 50-year-old superstar would have been "a retired model somewhere" (like he said), had it not been for a flight not taken.
In an interview with
mid-day
's Sit With Hitlist, the Bollywood
khiladi
narrated the story of how missing a flight actually changed his life. Akshay's story dates back to his
struggling days in the industry
. He was to take a flight to Bengaluru for a modelling assignment and mistakenly thought the flight to be in the evening instead of 6 in the morning.
"5:10 am I got a call from the airport. The agency guy called me up and said: 'Where are you?' I said: '
Main toh ghar pe hun
.' He said: 'You know, it's unprofessional people like you... you'll never succeed in life'," Akshay said in the
interview
.
"I was in tears and I was telling him '
Main abhi aata hun, main bhaag ke aata hun, main motorcycle pe aata hun
..' but unfortunately they didn't agree and obviously they were right. They had to catch a flight and they went away," he added.
Akshay confessed to feeling "extremely low" that day but all it took to cheer him up was a visit to the Nataraj Studio in Mumbai. When he left the studio later in the day, he already had three films in the pipeline. "I remember going to Nataraj Studio. There, I remember meeting Pramod Chakravorty's company's make-up man. He told me: '
Hero banna hai
?'" Akshay said in the
interview
.
This was followed by a session of interview with late director Pramod Chakravarty and by the end of the day, Akshay had been signed for three films: "I was called inside and to my surprise he gave me my first cheque. He signed me for three films immediately. He gave me a cheque of
R

s.
5,000 - first film was for
R

s.
50,000, second film it was written
R

s.
1 lakh and third film was
R

s.
1.5 lakhs. The time he gave me the cheque was 6'o clock in the evening."
In 1992, Akshay was directed by Pramod Chakravorty in
Deedar
- this was the year Akshay made his breakthrough in Bollywood with the cult movie
Khiladi
and also starred in
Mr Bond
. Akshay made his debut the previous year, with Raj Sippy-directed
Saugandh
.
"So it's actually the fact that whatever happens, happens for good. I always think it would have been a disaster if I'd have gone to Bangalore. Then today, I'd be a retired model somewhere," added Akshay.
Akshay Kumar is currently looking forward to the release of
his much talked about movie Padman
, which is arriving in theatres on the Republic Day weekend. He also has
Gold
and Rajinikanth's
2.0
coming up.-ndtv