Delhi Chief Minister Arvind Kejriwal suggested that a coalition of opposition parties including his and Mamata Banerjee's could have a shot at challenging Prime Minister Narendra Modi in the next general elections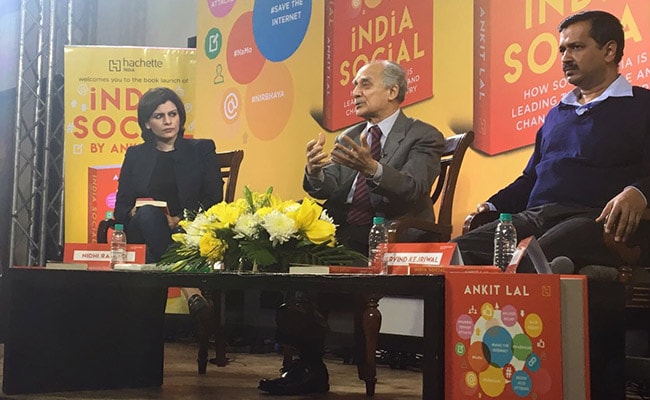 Arvind Kejriwal and Arun Shourie at the launch of a book on social media, in New Delhi
NEW DELHI:
Delhi Chief Minister Arvind Kejriwal today claimed that "2019 will be PM Modi versus the people". Mr Kejriwal, speaking to NDTV, said that the twin reforms of demonetisation and the new national sales tax GST has crushed the livelihood and hopes of small traders everywhere.
"The narrative of cows and 'Padmavati' can be sloted, but will not hold when people's ability to earn a living is threatened," he predicted, attacking the government for tolerating attacks by cow vigilantes and threats of violence by fringe groups who have called for a ban on the
movie directed by Sanjay Leela Bhansali

.
He was speaking at the launch of a book on social media along with former BJP leader Arun Shourie.
Mr Kejriwal suggested that
a coalition of opposition parties
including his and Mamata Banerjee's could have a shot at challenging Prime Minister Narendra Modi in the next general elections, despite Mr Modi's super-strong approval ratings.
Mr Shourie said it is up to social media and not conventional or mainstream media to present independent facts to the public at a time when the government is blatantly indulging in what he described as vast illicit acts.
He pointed in particular to the allegation that Justice BH Loya, who was hearing a case involving murder allegation against BJP chief Amit Shah,
died mysteriously in December 2014
, just days before Mr Shah was exonerated in the case.
The Delhi Chief Minister also called for an urgent and independent investigation into the death of Justice Loya
.--NDTV