It speaks about the new Congress president. It also mirrors the level of politics, issues at stake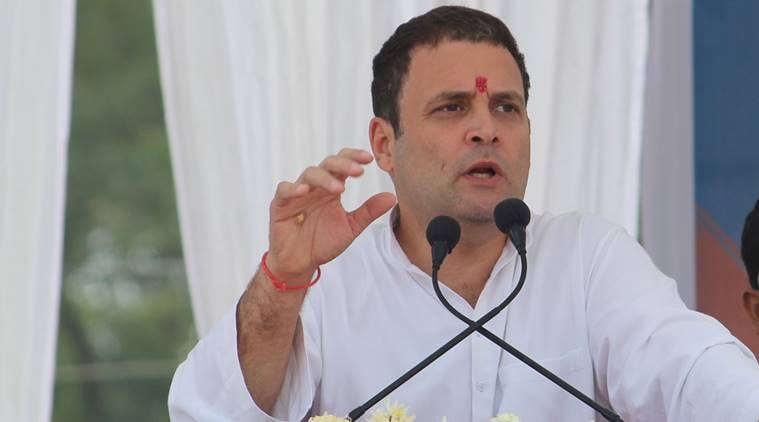 Rarely would a leader be at the centre of attention and criticism despite the near-consensus (reportedly even among many of his party men) that he lacks the qualities of a leader. (Express photo Javed Raja)
As Rahul Gandhi ascends to the top post in his party, the Rahul-bashing industry has gone into top gear. Well-wishers of the Congress may find fault with him due to the concern that he may not be able to improve its fortunes. But it is intriguing that those who cannot be accused of any sympathy with the party too keep criticising Rahul and his ascension.
If Rahul goes on vacation, critics thrash him for not devoting time to politics; if he speaks to students at Berkeley, he is damned for bringing disrepute to the country; if he goes to an eastern state, wise commentators would ask why he did not go west; if he acted macho, clever tacticians would blame him for not being humble; if he allies with party A, he would be faulted for not aligning with party B; if he draws a good response in Gujarat, that is seen as coincidence and unprincipled association with young leaders from the state.
Rarely would a leader be at the centre of attention and criticism despite the near-consensus (reportedly even among many of his party men) that he lacks the qualities of a leader.
So, who is afraid of Rahul Gandhi?
It is not necessary to count Rahul's faults. About 15 years ago, he contested a seat seen as a "family borough" and subsequently held various party offices at the national level, thus legitimately inviting the charge of dynastic politics. Many of his close colleagues, too, are scions of political families. This makes his claim of changing the way the Congress operates somewhat hollow. He is also seen as being non-passionate about politics. He is supposed to be lacking in a clear vision about policies and the future of the country. Rahul is not known as a good public speaker. But his most important fault is that he led his party to the worst-ever performance in 2014. In politics, where success is the only test of good leadership, failure naturally becomes the single largest sin.
Lampooning Rahul is therefore a busy industry, a hobby of sundry commentators, serious analysts, political opponents and idle media persons who do not have to go deep into political dynamics if they have an easy target. But it should also be remembered that the lampooning of Rahul did not begin after the disaster of 2014; much before that, the rival party heralded a vitriolic attack belittling him as "shehzada" at best and "Pappu" at worst. More than Rahul's lack of virtue, that lampooning told us much about the level of politics and the issues at stake.
In the meantime, Rahul's clueless politics continued, and side by side, the Congress's hopeless and pitiable dependence on him (see my piece in these columns, 'Signifying Nothing', IE, December 29, 2016). That only added to the membership of the Rahul-bashing industry. Failure makes a good case for caricature and an easy prey for intellectual condescension. So, if the media and intelligentsia targeted him all along, that should not be surprising. Now that Rahul is finally taking over, there would additionally be a stream of advice on what he needs to do. But the curious question does remain: Who is afraid of Rahul and why?
Ironically, before Rahul can frighten the rival party, his new role is bound to create discomfort within the party he promises to rejuvenate. Typical of a mass-based Indian party, the Congress is a chaotic organisation. Tacticians brush shoulders with regional heavyweights who see the central leadership more as interference.
For the past more than two decades, both types have happily flourished and would now feel threatened. Rahul is known for unviable ideas of intra-party democracy and the urgency to pump new blood into the organisation. Now that he is "elected" president, what if he gets rid of the old Congresswallas who have often monopolised both palace politics and regional organisational spaces? So, it is to be seen how many of them choose to form their personal parties and how many take shelter under the BJP roof.
While fears within the party would remain muted, the fears without would be more vocal and acerbic. We can discount the devotees of Modi who seem to think that no taller leader ever trod, at least on Indian soil, and that Modi, apart from rewriting history, is also creating it. Thus, despite the limits to what Rahul can do and notwithstanding whether he can be a match to Modi, there would be apprehensions, suspicion and opposition to Rahul from this section chiefly because he claims to lead forces opposed to Modi.
But the BJP top brass and their core strategists probably are the most worried lot. For the past five years they successfully built an image of Rahul showing him as a weakling and a non-entity and yet targeting every move he made. They know very well that image-breaking and image-making are games two can play. They know that politics does not admit a vacuum. So, they continue to ridicule — the lack of internal democracy and the bad choice the party is making (for which they should be happy). But they are also worried by the response Rahul is suddenly getting in Gujarat. On the eve of his decision to take over as party president, Rahul seems to have benefitted doubly — by joining the game of image-making but, at the same time, by being in the limelight through the desperation of his detractors. The long five years of often uncivil caricaturing has ensured that his role as the main challenger remained central not because of what he did but because of what his opponents said about him. The continuous attack in social media and public gatherings has betrayed the deep-rooted concerns of his opponents. If in the days to come, Rahul were really to rejuvenate his party, he would have to give credit to the BJP masterminds who relentlessly spent energy on vilifying a leader who they themselves painted as incompetent.
When Modi began caricaturing him in 2013, it was seen as necessary aggression for the BJP to make a comeback. When in 2017, the prime minister goes on to exploit the rebellious voice of an insignificant challenger to Rahul's candidature, it tells us much more about who is afraid of Rahul. Or, is it not so much a question of being afraid of Rahul the person, but of the ideas he may discover from the past archives of his party? Are some people afraid that in his incompetence, Rahul may actually hit upon something valuable from the past of the Congress?
The writer is co-director, Lokniti programme, CSDS and chief editor of Studies in Indian Politics
-IE