Congress president Rahul Gandhi said today, "We'll take on PM and BJP but we don't need to hate them."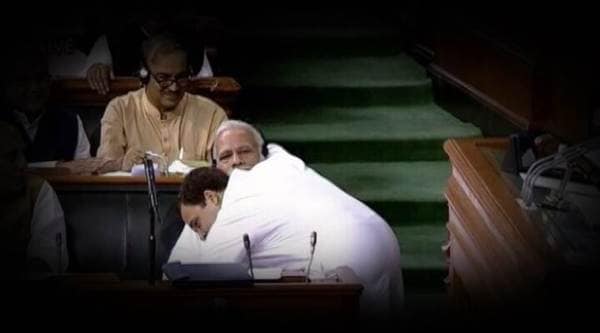 After playing with the spotlight for a long time, after making erratic interventions and being seen to consistently lose political moments and opportunities, Rahul seemed to be making a statement in Parliament which was not just about the BJP, but also, and more, about himself.
Reiterating the statement he gave in the Parliament last week during the no-confidence motion, Congress president Rahul Gandhi Wednesday said the party will take on the Prime Minister and the BJP, but there's no need to hate them.
In a statement to media, Rahul was quoted by ANI as saying: "You can fight someone with all your mind but hate is a choice. Now whenever I come across BJP MPs, they take two steps back thinking I'll hug them. One thing that religion teaches us is that you can't get imprisoned by hatred. We'll take on PM and BJP but we don't need to hate them."
After a marathon debate on the no-confidence motion in Parliament on Friday, the Bharatiya Janata Party-led National Democratic Alliance (NDA) government won the trust vote by 325-126 margin, but not without its share of drama. Also Read: Rahul Gandhi launches 'jumla' strike on BJP, hugs PM Modi during debate
Saying that he has no hatred for prime minister, the BJP and the RSS; Gandhi instead thanked them for teaching him the meaning of "Congress, life and being a Hindu." "You can call me Pappu, give me names, but I will never have hatred for you," Gandhi said, before walking over to PM Modi and taking him into an embrace.
Modi, who was apparently taken aback by Gandhi's gesture, called him back and shook hands with him. Later, Gandhi was also snapped winking in the House.--IE