Saurabh Chaudhary, who was competing in his first senior event at the international level, set an Asian Games record en route to the finish on the top step of the podium in the men's 10m Air Pistol event.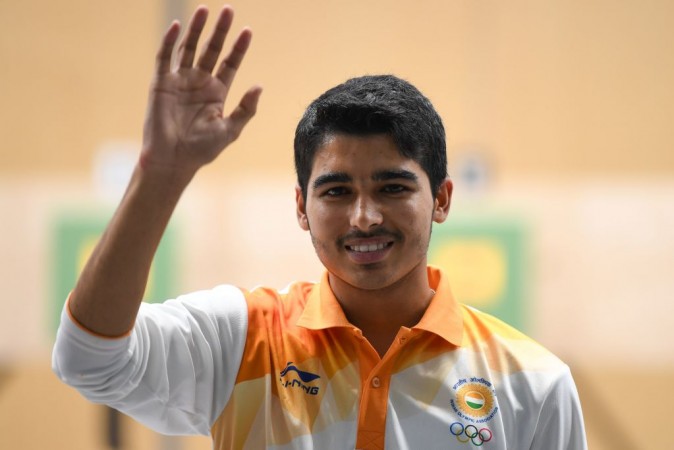 Saurabh Chaudhary won the 10m Air Pistol gold on Tuesday.
MOHD RASFAN/AFP/Getty Images
India took a gamble by sending a teenager and a hobby shooter-turned professional for the pistol shooting events at the Asian Games. World number one SaRizvi Shahzar, number 11 Om Mitharwal and veteran Jitu Rai were not part of the squad but Saurabh Chaudhary and Abhishek Verma were.
In what has been one of the most successful shooting categories for India in recent years, teenager Chaudhary and lawyer-turned shooter Verma were carrying the country's hopes at the continental event.
On Tuesday, the two proved their selections right and made their country proud by finishing 1-3 in the 10m Air Pistol final on their Asian Games debuts.
16-year-old Chaudhary set a new Asian Games record as he finished the pulsating final with 240.7 points. Notably, this was also his first senior-level competition at the international level.
#SaurabhChaudhary - let's remind ourselves- he's ONLY SIXTEEN! Let that sink in!! Wow!! Talk about the future being in safe hands! Well done, SIR! #AsianGames2018

— RK (@RK_sports) August 21, 2018
Now this is called #focus and that too at 16 😁😁#AsianGames2018 #TuesdayMotivation #SaurabhChaudhary https://t.co/BMzTyAm3tV

— Tamanna Gupta (@TamannarGupta) August 21, 2018
New Star Born💪
Saurabh Chaudhary wins the Gold Medal 🥇 in Men's 10m Air Pistol. He is just 16 !!
2 Yrs back he started shooting as hobby .. What a turnaround !
Congrats Saurabh 🌺Keep same focus & hard work intact.
A glorious long journey has just started for you. pic.twitter.com/7WqRsG9tLY

— Maj Surendra Poonia,VSM (@MajorPoonia) August 21, 2018
Chaudhary was a calm and composed figure throughout the final, which had some Olympians in the fray. Even after the winning the gold, the boy from Haryana didn't come up with an over-the-top reaction but was carrying a subdued sense of satisfaction and joy.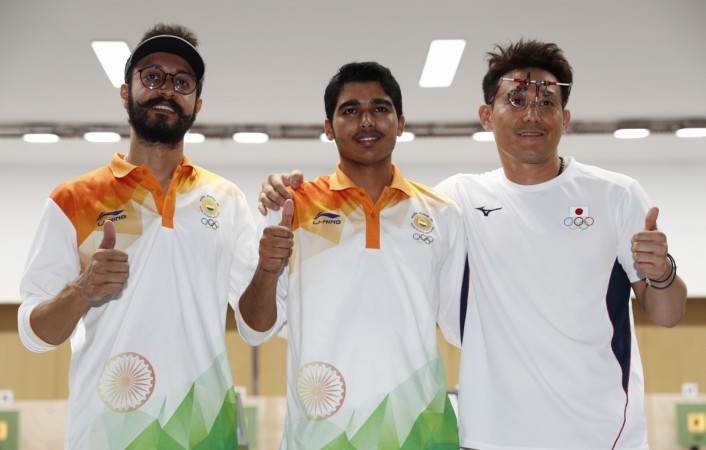 16-year-old Saurabh Chaudhary (C) clinched gold on his Asian Games debut.
Reuters
The Indian teenager was trailing Japan's Tomoyuki Matsuda (Right in the above photo) by 0.4 points at 220.1 before the last round of two shots.
Showcasing nerves of steel, Chaudhary shot 10.2 and 10.4 in the last round while 42-year-old Matsuda buckled under pressure, shooting an 8.9 and 10.3.
·
Saurabh Chaudhary was born in 2002 in Meerut district of Uttar Pradesh.
·
He had turned 16 only two months ago (May 11) and is in class XI.
·
The teenager, a farmer's son, took up shooting only three years ago.
·
Chaudhary learned shooting at Amit Sheoran's academy at Benoli, 53 kilometers from Meerut.
·
"I like farming. We don't get much time off from training but whenever I do, I go back to my village (Kalina) to help my father," Chaudhary told the PTI after Tuesday's win.
·
The ongoing Asian Games was Chaudhary's first-ever senior event at the international level.
Good run ahead of the Asian Games
·
Saurabh had won the junior World Cup in Suhl, Germany earlier this year, improving on his fourth-place finish from last year's edition.
·
He set a junior world record by shooting 243.7 in the final en route to World Cup glory. The record was held earlier by China's Wang Zhehao at the year's first ISSF World Cup in Sydney.
·
He had warmed up to the Asian Games with a gold medal at the 28th Meeting of Shooting Hopes International championship in Plzen, the Czech Republic in July.
Training with seniors ahead of Asian Games
·
Chaudhary wanted to train with the seniors in the lead up to the Asian Games.
·
He was to train with the rest of the junior squad in Bhopal from early August under chief coach of the junior pistol team, Jaspal Rana.
·
However, he went on to train with the seniors — at New Delhi's Tughlakabad range.
·
"I wanted to do practice with the Asian shooters & coaches as they are all practising for Asian & World Championship. I'll get the same atmosphere in the senior camp as I will be getting in Asian Games," Chaudhary had written to National Rifle Association of India, as quoted by The Tribune.
He will be contesting in the Youth Olympic Games in October this year as he had sealed a berth for the event by winning a gold at the Asian Youth Olympic Games qualification last year.
Beating Jitu Rai and Omprakash Mitharwal
·
The teenager has been finding a lot of success at the national level as he had stunned the likes of Rai and Mitharwal last year.
·
At the 17th Kumar Surendra Singh shooting championship in August 2017, Chaudhary stunned Rai by 0.8 points and clinched the gold.
·
At the National selection trials in Tughlakabad in November last year, Chaudhary stunned Omprakash Mitharawl by 5.2 points in the final.