AGRA: With a group of women from right wing organizations performing 'Puja' in the mosque, located inside Taj Mahal premises, on Saturday to "prove" that the monument was originally a shiv temple, sharp communal divisions between local Hindus and Muslims have come to fore.
Though several right wing organizations have been claiming for long that Taj is actually "Tejo Mahalaya", the fact that the puja ceremony was in retaliation to the Namaaz performed by local Muslims at the mosque on Tuesday despite the ASI's ban on it, has become a contentious issue with a potential of leading to a communal flare up. The mood of the women who performed the puja was belligerent as they said that Hindus have every right to have their prayers there, if the Muslims can offer namaaz.
"If Muslims are being allowed to offer namaz here on all the days, then even we can do our puja at our Tejo Mahalaya," said Meena Devi Diwakar, district president of Antarrashtriya Hindu Parishad, who performed the puja with "dhoop bati" and poured "ganga jal" inside the mosque premises. Later, the all women chanted "Om Namashway".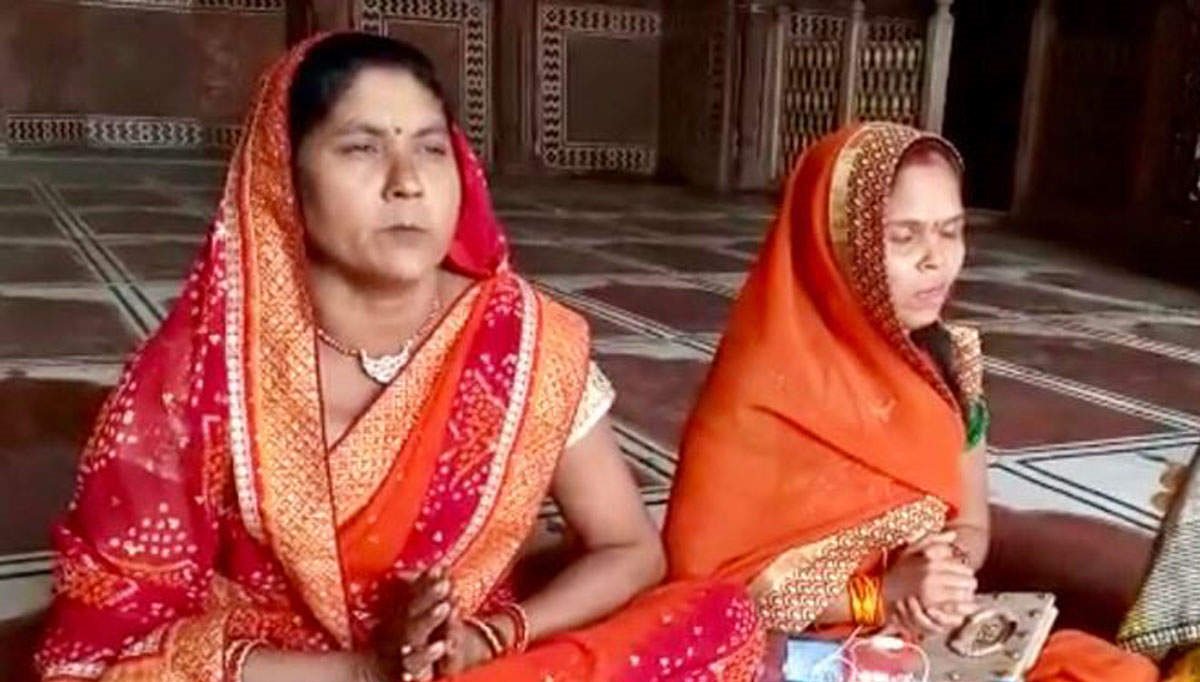 Meena Diwakar claimed that the Tejo Mahalaya has been polluted by a few people and she will purify it with 'gangajal'.
CISF Commandant, Brajj Bhushan said that they had no knowledge of this incident, as their jawans are not allowed inside the mosque complex. He said only ASI staff can confirm about it.
When contacted, ASI Superintending Archaeologist (Agra circle) Vasant Swarankar, said that when he got the information, he sent the ASI staff there immediately, but no 'dhoop' or anything was found on the spot.
Swarankar said that action will be taken against the right wing activists, if the CCTV footage confirms the incident.
Govind Parashar, leader of Rashtriya Bajrang Dal, who threatened to perform puja inside the Taj Mahal, said if no action has been taken against Muslims who violated the ban then why should action be taken against the Hindu activists.
Syed Ibrahim Hussain Zaidi, president of the Taj Mahal Intejamia Committee said the right wing activists managed to enter the mosque because of the callousness of the CISF personnel and ASI staff. He said, "it's surprising that these women managed to carry match box or lighter along with dhoopbati inside the premises even when there is high security at the gates".
He said deliberate attempts are being made to "vitiate" the peaceful atmosphere of the city by flaring communal passions. He deplored the "provocative" act of performing puja inside the mosque and said that the administration and ASI should take steps to ensure that such incidents are not repeated.
Sadik Ali, the Imam of the mosque, whose forefathers were appointed by the Mughal emperors, said that religiously, performing puja at the mosque is absolutely wrong. He said action should be taken against those who did so. "I was not present for the afternoon namaz and came only for the 'asar' and 'maghrib' namaz," he said.-
TOI