Soon after Ankiv Baisoya was elected as DUSU President, the NSUI claimed his admission in DU's Buddhist Studies Department was not valid as he submitted fake marksheet of graduation from Thiruvalluvar University.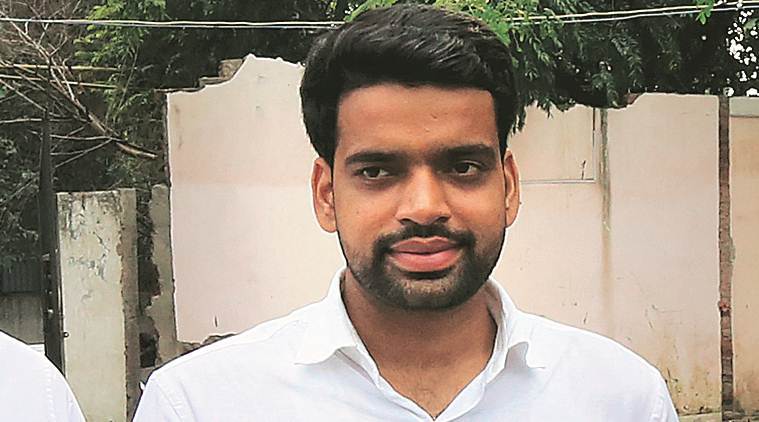 Ankiv Baisoya was elected DUSU president on September 13
Delhi University Students' Union (DUSU) President Ankiv Baisoya Thursday tendered his resignation from the post, at the behest of the Akhil Bharatiya Vidyarthi Parishad (ABVP). He was also suspended from the organisation pending an enquiry into his alleged fake marksheet.
Baisoya had secured admission in MA Buddhist Studies in July, and submitted BA marksheets from Tamil Nadu's Thiruvalluvar University (TU) as qualifying certificates. He was elected president on September 13. Soon after the polls, the NSUI alleged that he had submitted fake certificates.
The TU registrar also wrote to the TN Department of Higher Education, stating that Baisoya was neither enrolled in the varsity nor in any of its constituent or affiliated colleges. DU is yet to complete its probe in the matter.
ABVP national media convener Monika Chaudhary confirmed that Baisoya had sent his resignation, addressed to the V-C: "This propaganda is in continuation since he (Baisoya) came to power. ABVP, at that time, gave its clear stand that DU has all rights to verify documents… To maintain the genuineness of DUSU, the ABVP asked Ankiv to resign and also removed him from all responsibilities of the organisation till DU completes the verification process."
While Baisoya did not respond to calls and texts by The Indian Express, he wrote in a Facebook post: "With your blessings and love, I was recently elected DUSU president, but soon after that, NSUI and some other opponents hatched a pre-planned conspiracy against me and started raising questions regarding my admission in DU".
"Keeping the dignity of office, and the mandate of students in mind, I am resigning from the post of DUSU president. I urge the DU administration to probe the allegations against me as soon as possible and put an end to the controversy. I assure you all that I will prove false, these baseless allegations…," he wrote. Incidentally, the resignation comes after November 12 — post the two-month deadline for re-elections, as per the Lyngdoh Committee Recommendations.
The LCR states, "In the event of the office of any major post of office bearer falling vacant within two months of elections, re-elections should be conducted; otherwise the vice-president may be promoted to the post of president, and joint secretary to the post of secretary…" DUSU polls were held on September 12. The current VP is also from the ABVP.
ABVP state secretary Bharat Khatana said, "We request the DU administration to complete the verification process as soon as possible and produce the result in the public domain. We also condemn the delay by DU as it led to false information (being spread)… if Ankiv is found guilty, then he must face legal action."
Reacting to the resignation, AICC in-charge of NSUI Ruchi Gupta said: "The ABVP, ably supported by a supine DU administration, waited two months in an attempt to retain the president post… This decision at this belated hour… is clearly cynical and cowardly."
Meanwhile, the deadlock between the two universities over the alleged fake marksheet continues, with TU denying that it had received the fee required to verify the marksheets and the Buddhist Studies HoD claiming that he is awaiting a response from the Controller of Examination (TU).--IE