Ashok Gehlot, 67, was called back from the Delhi airport on Thursday night when he was about to fly back to Jaipur, apparently after being told he would be named Rajasthan Chief Minister.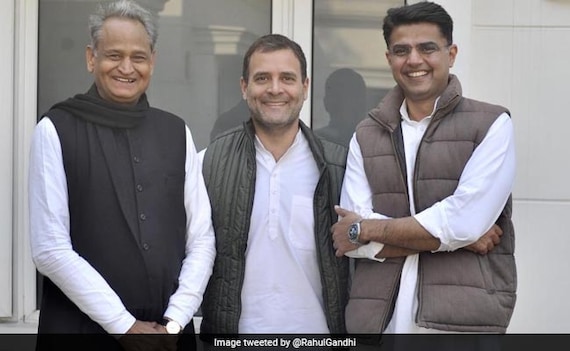 The united colours of Rajasthan!
@RahulGandhi
NEW DELHI:
Ashok Gehlot is the new Chief Minister of Rajasthan, sources said today, shortly after Rahul Gandhi dropped a big hint that the tussle for the post of Rajasthan chief minister was over. The Congress president tweeted a photo with Ashok Gehlot and his rival for the top job, Sachin Pilot, all three grinning.
It was a replica of his photo to announce the Madhya Pradesh detente last evening. Sources say Sachin Pilot, the Rajasthan Congress chief, has been offered the post of deputy.
It is not known whether Sachin Pilot has accepted the consolation prize. It took several rounds of meetings over the past 36 hours to bring the 41-year-old leader on board. Rahul Gandhi's sister Priyanka Gandhi Vadra joined one of the meetings.
In a sign that the situation may still be tense, Ashok Gehlot's name is likely to be announced at the Congress office in Delhi instead of at a meeting of lawmakers in Rajasthan capital Jaipur
.-NDTV