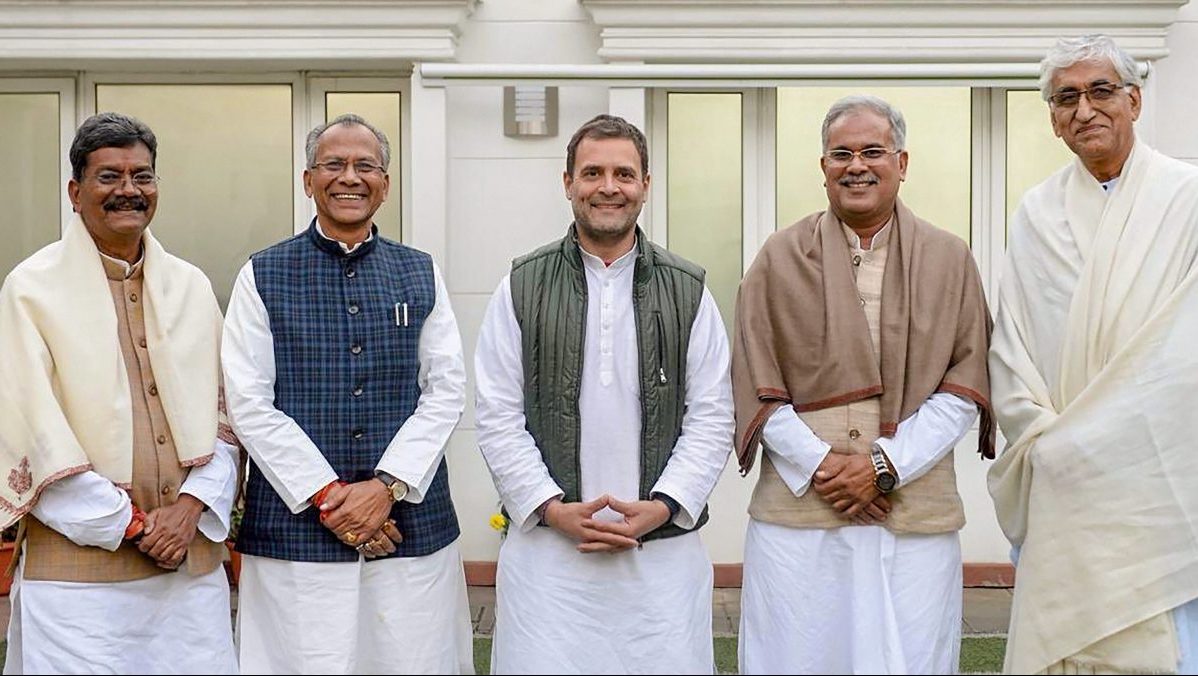 Congress president Rahul Gandhi with senior leaders of the party's Chhattisgarh unit | PTI
Chhattisgarh shows the way.
I
n the analysis of the results of five state assembly elections, Chhattisgarh is being treated as a sideshow, an outlier. It's a small, tribal-dominated, conflict-ridden state. Yet, it is Chhattisgarh that has thrown up the most interesting and unexpected result.
For starters, when was the last time the Congress won any election with a landslide, 2/3rd majority? In Chhattisgarh, the party won
68 of 90
seats. Its vote share increased only a bit, from 40.3 per cent in 2013 to 43 per cent in 2018. But crucially, it was good at seat-conversion with the right kind of candidates and the right strategy.
The BJP's
vote share
in the state was 41 per cent in 2013 and 49 per cent in 2014. It has now dropped several notches to 33 per cent. Most of this lost vote share seems to have gone to Ajit Jogi's Janata Congress Chhattisgarh (JCC). But the Congress was able to make the most of it with its right caste strategy, shifting its prime focus from tribals to
OBCs
.
It is often wrongly presumed that Chhattisgarh is tribal-dominated, when in fact
45 per cent
of the state's population is OBC. This section is most likely to comprise farmers, who are most affected by agrarian distress. The Congress' promise of farm loan waiver and increase in minimum support prices, along with its strategy to woo OBCs, helped it win 68 seats.
Winning a high number of seats with just a marginal increase in vote share is the sort of thing the BJP usually achieves. It reflects good ticket distribution and effective campaigning.
In
July
this year, when the Congress' new president Rahul Gandhi appointed the Congress Working Committee, he inducted Tamradhwaj Sahu as one of its members. It is to be noted that many senior leaders such as Digvijaya Singh did not find their place in the CWC. Sahu is the Congress' lone Lok Sabha MP from the state; the BJP had won 10 of the 11 seats in 2014. Sahus are said to
constitute
16 per cent of the state's electorate. Tamradhwaj Sahu was one of the party's main campaigners in the state and had a say in ticket distribution. Sahus are small traders and have traditionally been BJP voters.
The other big focus was the Kurmis, who are 20 per cent of the state population. In October 2014, a Kurmi, Bhupesh Baghel, was made the president of the state unit. Baghel has
earned
his chief ministership by aggressively playing the opposition to Raman Singh, and over-seeing the
expulsion
of Ajit Jogi and his son from the party. Ajit Jogi, a tribal leader, was jokingly called? the fourteenth member of the Raman Singh cabinet.
The Chhattisgarh model
It is not just Chhattisgarh alone where OBCs are the largest demographic group. And OBCs aren't just one or two large, dominant groups, they include countless small communities.
The lesson for the Congress from Chhattisgarh is to promote OBC leadership in every state. This has been a large part of the BJP's success. Prime Minister Narendra Modi is himself from a small OBC community. As is Ashok Gehlot, who is from the Mali caste.
Part of the reason why the Congress didn't wither away in Rajasthan the way it did in Uttar Pradesh and Bihar is that in Rajasthan, the Congress smoothly transitioned from upper caste leadership to OBC leadership. Fortunately for the Congress, there is already a next-generation
OBC leader
ready in Rajasthan: Sachin Pilot.
It's the same story with Siddaramaiah in Karnataka. We have now seen the Congress in Chhattisgarh develop an OBC constituency for itself. This is a huge achievement for a party often incapable of any 'social engineering' in elections. Key to making this happen is the direct interest taken by Rahul Gandhi in ticket distribution, and not letting that be decided by who is close to which Congress Darbari in Delhi.
In Madhya Pradesh, Kamal Nath has earned his chief ministership too. But he's a
Brahmin
, and the party may need to be careful about its OBC positioning in a state that was ruled by an
OBC
, Shivraj Singh Chouhan, for 15 years.
Be it Uttar Pradesh or Gujarat, Haryana or Bihar, the BJP's electoral success largely comes from the OBC vote. If the Congress adds 'OBC, OBC, OBC' to its chant on 'farmers, farmers, farmers', it may be looking at very bright prospects in 2019. As Chhattisgarh has shown, even a small shift in the OBC vote causes a tectonic jolt to the BJP. The Chhattisgarh model is waiting for all-India replication.--
The Print