The images accessed by ThePrint show four dark spots on roof, missing tents and burnt earth but walls and buildings intact.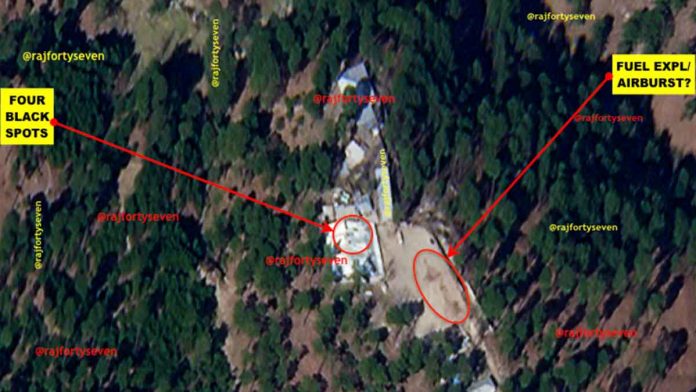 Col. Vinayak Bhat (retd) /ThePrint
New Delhi: First exclusive satellite images accessed by ThePrint of the Jaish-e-Mohammed training camp in Pakistan's Balakot bombed by the Indian Air Force on 26 February show four black spots on the CGI or corrugated galvanised iron sheet roofs of Jaish facilities.
This indicates the possibility that IAF smart munitions may have pierced the roofs which have since been patched with fresh CGI sheets and repainted.
But the damage to buildings and walls from the air strikes may not have been as extensive as it has been made out by the Modi government and the ruling BJP.
(23,674)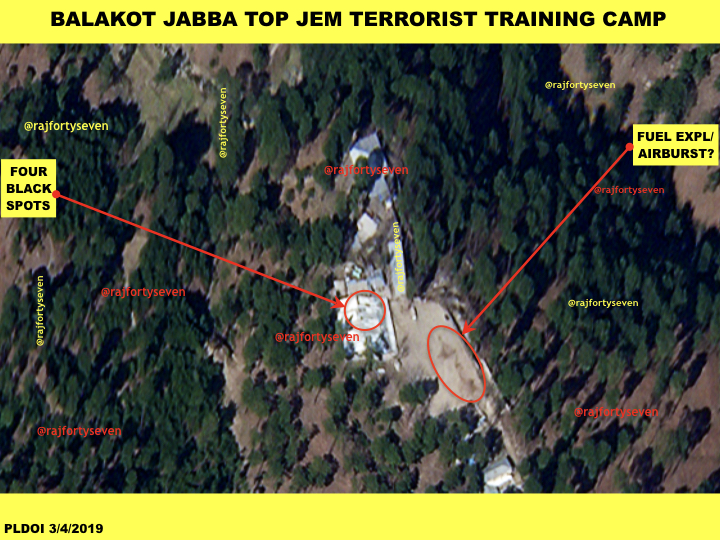 The images also show tents that were seen before the strikes have gone missing.
There were two large blocks of tented accommodation of 17m x 6m in size seen in a pre-strike image. These tents are not observed in the latest imagery of 4 March, indicating they were either removed or destroyed by the IAF bombing.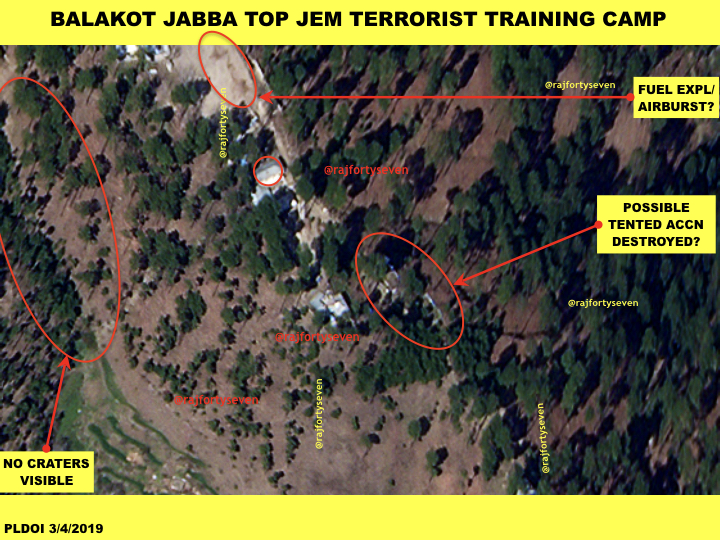 The images apart, the action of targeting this Jaish facility from the air demonstrates that New Delhi has been successful in its intent to tell Pakistan and the international community it can and will retaliate deep inside Pakistan to a terrorist attack on Indian territory.
The high-resolution images were taken on 4 March, five days after the Indian strike.
'Biggest training camp'
Following the 26 February strikes, top Indian officials and defence sources said that IAF fighter jets targeted a Jaish facility in Balakot in Mansehra district of Pakistan's Khyber-Pakhtunkhwa province.
Foreign Secretary Vijay Gokhale had said "India struck the biggest training camp of JeM in Balakot. In this operation, a very large number of JeM terrorists, trainers, senior commanders and groups of jihadis who were being trained for fidayeen action were eliminated. This facility at Balakot was headed by Maulana Yousuf Azhar (alias Ustad Ghouri), the brother-in-law of Masood Azhar, chief of JeM."
Gokhale had also said that the facility was located in a "thick forest on a hilltop far away from any civilian presence". The reference was taken as an indication to a Jaish facility atop a hill called Jabba Top, near the town of Jabba, located between Balakot and Mansehra.
The camp was about 65 km from the LoC and was said to be housing roughly 200-300 terrorists at the time of the strike. The camp covered an area of almost 50 hectares, and was deeply hidden from most visual surveillance, as ThePrint had first reported.
Four black spots
The first satellite image indicates that most structures on Jabba Top are still standing and are intact. But there are four dark spots visible on the main building, which possibly indicates touching up of paint over a newly placed CGI sheet.
The IAF is reported to have used 1,000 kg Israeli Spice-2000 precision-guided bombs to hit the targets. This bomb can blow such a tin-roofed building to smithereens.
The four dark spots indicate that the IAF may have used the smaller Spice-250 bombs that may have entered the structure through the four spots and caused damage after exploding inside.
The Spice-250 with blast fragmentation warheads is considered lethal against personnel and soft skinned targets such as tents and shacks being used to house the Jaish terrorists.
The image, however, does not show any damage to any of the other buildings along the entire ridge. Some Western experts said that even "a low-level pass at high speed with a stick of dumb bombs would have erased that hilltop with far less effort".
The image also indicates that India may have used 'fuel air explosive' warheads which can be fitted with the kits of the Spice bombs.
Burnt spots
The third image shows burn marks on the Jabba top hillside. These marks are not consistent with craters caused by a 1,000 kg bomb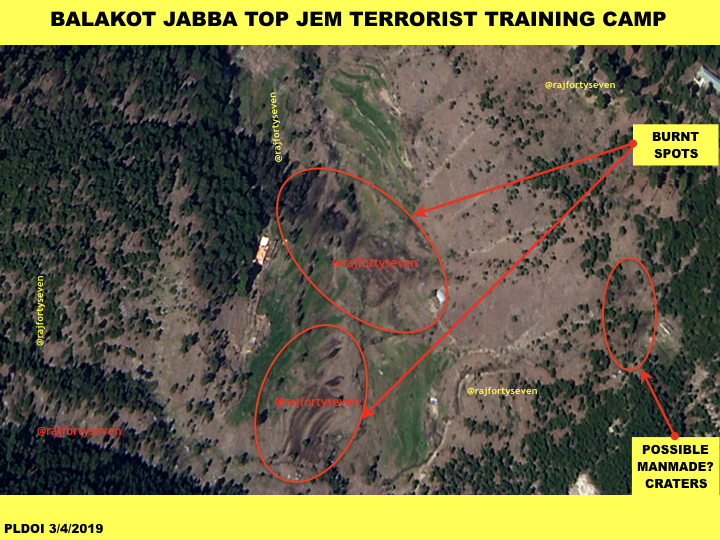 The burn marks are very small and, in fact, look man-made rather than bomb craters. The large burn marks could have been created by fuel explosive warheads dropped on escaping terrorists by a second or third wave of IAF fighters.
The craters are probably more in conformity with shallow digging and burning, possibly by Pakistani armed forces in a hurry. The ground pictures are also vague with broken tree stubs but without the top portions anywhere in the vicinity.
This report will be updated as more satellite images and their analysis becomes available.
Col. Vinayak Bhat (retd) is an Army satellite intelligence veteran and contributes exclusively to ThePrint.-The Print