BJP's Sanju Verma also said that she did not believe this incident highlighted a "governance deficit".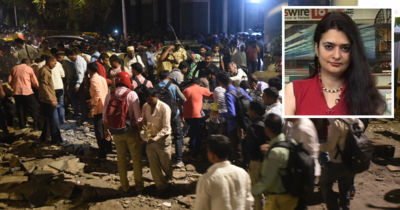 A
foot overbridge
collapsed near the Chhatrapati Shivaji Maharaj Terminus (CSMT) railway station in Mumbai. At least
five people
died and more than 30 people were injured. But while the Brihanmumbai Municipal Corporation (BMC) and the Railways are busy shifting blame on each other, a Bharatiya Janata Party spokesperson has outdone both and blamed the
collapse
on pedestrians.
On Times Now, speaking to anchor Navika Kumar, Sanju Verma, the chief spokesperson and co-convener of the Intellectual Cell of BJP Mumbai said, "It hate to say this. Yes, my heart goes out to the five people who are reportedly dead; because they did not deserve this. Having said this, I would not agree to (sic) the fact that there is a governance deficit…"
After being interjected by the anchor, Verma continued, "Navika, I have been closely monitoring this, and as you rightly pointed out, in the last two years, there have been two major bridge collapses in Mumbai. The Elphinstone one and the Gokhale bridge in July 2018. I know you will not agree with this, but the fact remains that in both the cases, a large part of the blame — for want of a better word — was on pedestrians who did not pay any…"
Verma's words were, following that, drowned under the indignation of the anchor and her fellow panellists. This comment has obviously not gone down well with the public. On Twitter, the BJP was criticised by one and all.
As per multiple reports, eyewitnesses said that the foot overbridge was being used despite repair-work being undertaken on it on the morning of March 14. Speaking to ANI, Maharashtra minister and BJP leader Vinod Tawde said that the bridge was not in a bad condition and only required minor repairs, as he questioned why it was not closed until repair-work was completed. He also said that an investigation into the bridge collapse incident would be undertaken jointly by the BMC and the Railways.
Maharashtra chief minister Devendra Fadnavis has
announced
an ex gratia of Rs five lakh for the families of those who died in the bridge collapse incident. He also announced a compensation of Rs 50,000 for the injured, adding that the state government would provide for their treatment.-
NC