Pakistan Prime Minister Imran Khan had said if Narendra Modi was re-elected Prime Minister of India, some kind of settlement could be reached on Kashmir.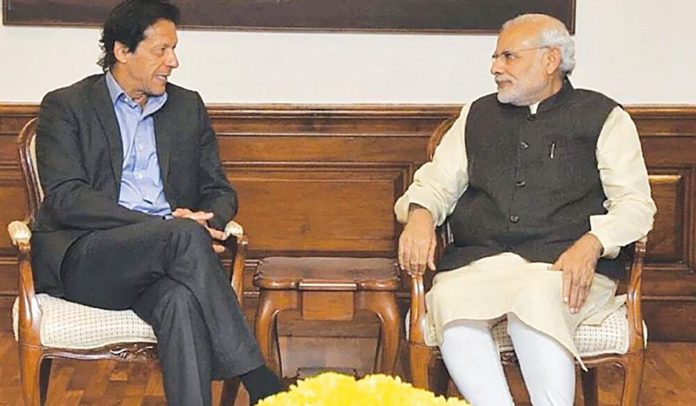 PM Narendra Modi and Pakistan PM Imran Khan | YouTube
New Delhi: Pakistan Prime Minister Imran Khan's remarks, that "some kind of settlement could be reached on Kashmir" if Prime Minister Narendra Modi is re-elected, has caused a stir in India.
Opposition parties have questioned Modi's 'nationalistic' credentials, even as policy experts say that a way forward can only come with a new government in place.
Congress spokesperson Sanjay Jha was among those who tweeted on the issue, questioning if the Modi government's "hyper-nationalism" was only a "charade".
Visit Amazon Echo Family Here
He also questioned if this "public endorsement" was because of the BJP's "disastrous national security record"
.
National Conference vice-president and former Jammu and Kashmir chief minister Omar Abdullah said Prime Minister Modi should answer on Khan's "endorsement" for his second term.
"Who is the tukde-tukde gang now?" Abdullah asked on Twitter.
Khan had told journalists in Islamabad Tuesday that if the next Indian government was Congress-led, it might be too scared to seek a settlement with Pakistan over Kashmir, fearing a backlash from the Right wing. "Perhaps if the BJP — a Right-wing party — wins, some kind of settlement in Kashmir could be reached," he was
quoted
as saying.
'New Pakistan policy only after new govt'
Experts believe that a new Pakistan policy can be chalked out only once a new government assumes power.
"Dialogue will definitely begin once a new government is formed. If talks did not stop post Kargil, they won't stop post-Pulwama either," said T.C.A. Raghavan, the former Indian High Commissioner to Pakistan, who is now director general, Indian Council of World Affairs (ICWA). "Once a new government comes to power, there will be a revised set of foreign policy measures, including a policy for Pakistan. Nothing remains static, the policy will have to change."
Salman Bashir, the former Pakistan foreign secretary and its former high commissioner to India, said: "The absence of dialogue between Pakistan and India, two contiguous nuclear powers, is a serious anomaly. It does not demonstrate maturity and derogates from the inherent civilisational worth of our peoples.
"Prime Minister Imran Khan has formally offered talks on terror. We certainly need to have some sort of backstop arrangements for crisis prevention, management and de-escalation."
No progress on Kartarpur Corridor
Meanwhile, talks on opening the Kartarpur Corridor continue to hang in the air, with India waiting for a clarification from Pakistan on why it formed a 10-member committee that included some alleged Khalistani sympathisers.
India had earlier cancelled the second round of formal talks that was scheduled to take place on 2 April at the eleventh hour. The first round of talks on the modalities of opening up the corridor were held in Attari on 14 March.
A technical-level meeting will take place next week at Zero Point on the Attari-Wagah border. Interestingly, infrastructure work on both sides of the Kartarpur Corridor is on in full swing.
The corridor is set to link the Dera Baba Nanak shrine in Punjab's Gurdaspur district with the Darbar Sahib Kartarpur in Narowal, Pakistan, which is the final resting place of the founder of the Sikh religion, Guru Nanak. The guru's 550th birth anniversary will be celebrated later this year.--
The Print