Murder case registered against BJP MLA Kuldeep Sengar and others a day after Unnao rape survivor's accident. Truck driver, owner arrested.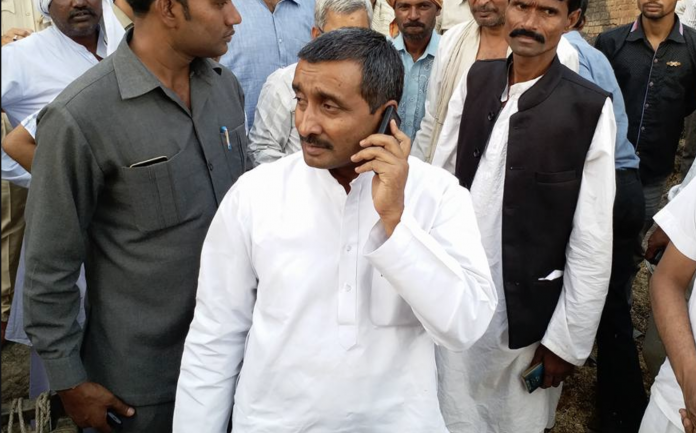 File photo of Kuldeep Singh Sengar | Facebook
PRASHANT SRIVASTAVA
and
ADITI VATSA
Lucknow: The Uttar Pradesh Police filed an FIR Monday against BJP MLA Kuldeep Singh Sengar — who is accused of raping a 17-year-old woman in Unnao in 2017 — a day after she met with an accident in Rae Bareli.
The charges against him include murder, attempt to murder and criminal intimidation and conspiracy. The police have arrested the driver and the cleaner of the truck, besides its owner.
The owner of the truck is a resident of Fatehpur district, said a police officer who did not wish to be named. Sengar too is from Fatehpur.
The woman's family has accused Sengar of planning the accident. An MLA from Bangarmau in Unnao, Sengar is currently lodged in Sitapur district jail in connection with the rape case.
Kya iss desh mein BJP MLA murder bhi nahin kar sakta ab? Why are liberals so intolerant about broad daylight rapes and murders?
The
#Unnao
rape survivor in her police complaint has said that
#KuldeepSinghSengar
started molesting her when she was 11 years old. A rapist & a paedophile
"Rae Bareli police is lodging a case against BJP MLA Kuldeep Sengar based on a complaint filed by victim's uncle Mahesh Singh, who is lodged in Rae Bareli jail," Additional Director General (ADG), Lucknow Zone, Rajiv Krishnan said at a press conference in Lucknow.
AmazonPrime Videos Offer : Amazon Prime Membership Subscription @ ₹ 129
Sengar has been booked under IPC sections 302 (punishment for murder), 307 (attempt to murder), 506 (punishment for criminal intimidation) and 120-B (punishment of criminal conspiracy). The FIR naming 10 people in all, besides 10-15 unnamed persons, has been lodged at Gurubaksh Ganj police station.
Systematic attempts to eliminate the Unnao rape victim and her family appear to be a pre-planned conspiracy & a mockery of rule of law. How can any civilised society allow such state sponsored barbarism ?
Earlier in the day, UP's Director General of Police O.P. Singh said: "The state government is ready for recommending a CBI probe into the Sunday's mishap in Rae Bareli if the victim's mother or any relative makes any request in this regard."
Rape survivor, others were to leave for Delhi from Rae Bareli
The Unnao rape survivor, her lawyer Mahendra Singh Chauhan and two aunts were expected to leave for Delhi after handing over "all documents" concerning the case to her uncle, who is lodged in a Rae Bareli jail in a separate case. The four had left their Unnao residence for Rae Bareli Sunday. Around 1 pm, their white Maruti Swift collided head-on with a truck, which mysteriously had a black-painted number plate, in Gurubakshganj area of Rae Bareli.
The rape survivor and Chauhan are on life support at a Lucknow hospital, while the two aunts died in the accident.
"In my last meeting with my wife…I had told her to bring all documents to Rae Bareli, we will hire a lawyer in Rae Bareli and also bring our advocate Mahendra from Unnao and you all should go to Delhi from here while I will get all the work done from the prison. But this information was given by police personnel deployed in Unnao to associates of the MLA and they did not come along," reads the police complaint lodged by the woman's uncle.
According to the complainant, his family had informed him about "constant threats from the MLA through another person's phone". They were allegedly threatened to change their statements on the rape incident in court if the family "wanted to live in peace". He claimed that the MLA's associates told the family to reach a compromise and stop meeting their lawyer failing which they would be killed.
He also alleged that the family had lodged many complaints against the MLA and his associates regarding these threats. "Some were handed over (to the police), others were made through registry but there was no hearing," reads the complaint.
The complaint further alleges that the MLA's associates had tried to kill the rape survivor, her family members and the lawyer who had been handling this case. "After looking at the incident and the turn of events in the past, I have complete belief that those related to the vehicle (truck) have some connection to the MLA or his associates," he said.
Blackened number plate of truck
The smudged number plate of the truck pointed to a conspiracy as it was done to hide the registration number of the vehicle.
The initial part of the registration number, which was not smudged, read UP 71 — this means it belongs to Fatehpur district.
Police have arrested the truck driver and the owner, and they are being interrogated. ADG Krishnan said both the truck and the car have been sent for forensic investigation.
Security staff did not accompany the rape survivor
The victim was given police protection in mid-2017 after she complained of having received death threats. A male gunner and two women constables were deployed for her round-the-clock security.
On Sunday, the security staffers, however, were not present with her.
Unnao SP Madhav Prasad Verma said the victim's family had declined to take the security staff along with them due to lack of space in the car.
He, however, added: "The entire matter will be thoroughly investigated as to why the security staff was not with the victim on that day when the administration has deployed a three-member team to protect the rape survivor and her family."
'Sengar's men threatened us'
The victim's maternal uncle said the smudged number plate is an indication of a deeper conspiracy. Her sister alleged that Sengar's supporters had even "threatened them a few days ago". She alleged that they have received threats from Sengar's men, who wanted them to mutually settle the case.
"They can be involved in this accident too," said the victim's sister.
The victim was allegedly raped when she had gone to meet Sengar at his residence on 14 June 2017 with one of her relatives with a request for a job. Both Sengar and the victim were residents of the same village in Unnao. The rape case is being investigated by the CBI.
Sengar's brother, on the other hand, is accused of tying the victim's father with a tree and mercilessly beating him. The victim's father was then handed over to the police and he died in police custody in 2017.
Opposition seek high-level inquiry
On Sunday, several opposition leaders, including Congress MLAs Aradhana Mishra and Aditi Singh, Samajwadi Party MLCs Sunil Singh Sajan and Udaiveer Singh, met the victim at the hospital.
All of them, besides other politicians, have demanded a high-level inquiry into the accident.--
The Print