Pedestrians walk past the Reserve Bank of India (RBI) headquarters building. (Photographer: Dhiraj Singh/Bloomberg)
MUMBAI:
Facing a revenue shortfall and uncertainty over a planned sovereign bond issue, the government is set to receive a Rs 1.76 lakh crore bonanza from the Reserve Bank of India.
The RBI board, headed by governor Shaktikanta Das, which met in Mumbai on Monday, approved a transfer of Rs 1,76,051 crore to the government. This includes Rs 1,23,414 crore of surplus or dividend for the year 2018-19 and Rs 52,637 crore of excess provisions — a one-time transfer which is also a first for the central bank.
The transfer of the excess provision has been a bone of contention between RBI and the government since the time Raghuram Rajan was the governor. Differences had come to a head during former governor Urjit Patel's tenure, with external board members and the former economic affairs secretary pushing for a transfer, which led to Patel's resignation last December. It was after Das took over in December 2018 that the Jalan panel was constituted.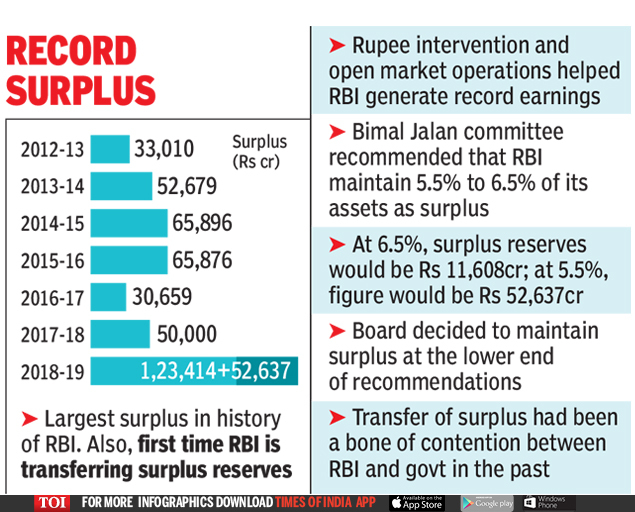 The transfer is based on a formula recommended by the Bimal Jalan committee's revised Economic Capital Framework (ECF) that was adopted by the board on Monday. The ECF prescribes the minimum amount of reserves RBI must hold to maintain financial stability in the forex and money markets in a worst-case scenario. Amid the battle for funds, the panel had been set up to work out the optimum capital level with RBI.