Hong Kong with only half of Delhi's population, holds out against the most ruthless might of China for the third successive month, only for their love of freedom.
From CNN's Joshua Berlinger
Genuine vs fake deomocracies
: How many of us have watched, much less participated in, such persistent, mammoth protests against the the stifling of our freedom through declared and undeclared emergency in India?
This explains why we have suffered the rule of the Congress and its successor governments for close to eight long decades. Or, perhaps, we have not suffered at all because we are too busy with our own affairs to bother about such peripheral issues; or,

curtailment

of

freedom

has never been a big issue for us.
·
Protesters march:
Hundreds of thousands of protesters braved torrential rain, a police ban and menacing Chinese propaganda videos for the 11th consecutive weekend of mass demonstrations.
·
High turnout:
Protest organizers said that 1.7 million people joined Sunday's mass demonstration, while police said 128,000 people rallied at Victoria Park. CNN cannot independently confirm either estimate.
·
A tumultuous week:
The march came amid calls for peace and unity after ugly scenes at the airport Tuesday, when a small crowd of protesters attacked a man they accused of being an undercover cop.
·
Months of protest:
The protests began in June over a now-shelved extradition bill, but have expanded to include calls for greater democracy and government accountability.
The rain has started to pour in Hong Kong but that hasn't put off the thousand of protesters currently in Victoria Park.
# 1 Best Selling
(2,366)
Protesters are huddling under thousands of multi-colored umbrellas in the park, which is so full that many are spilling out onto the surrounding streets.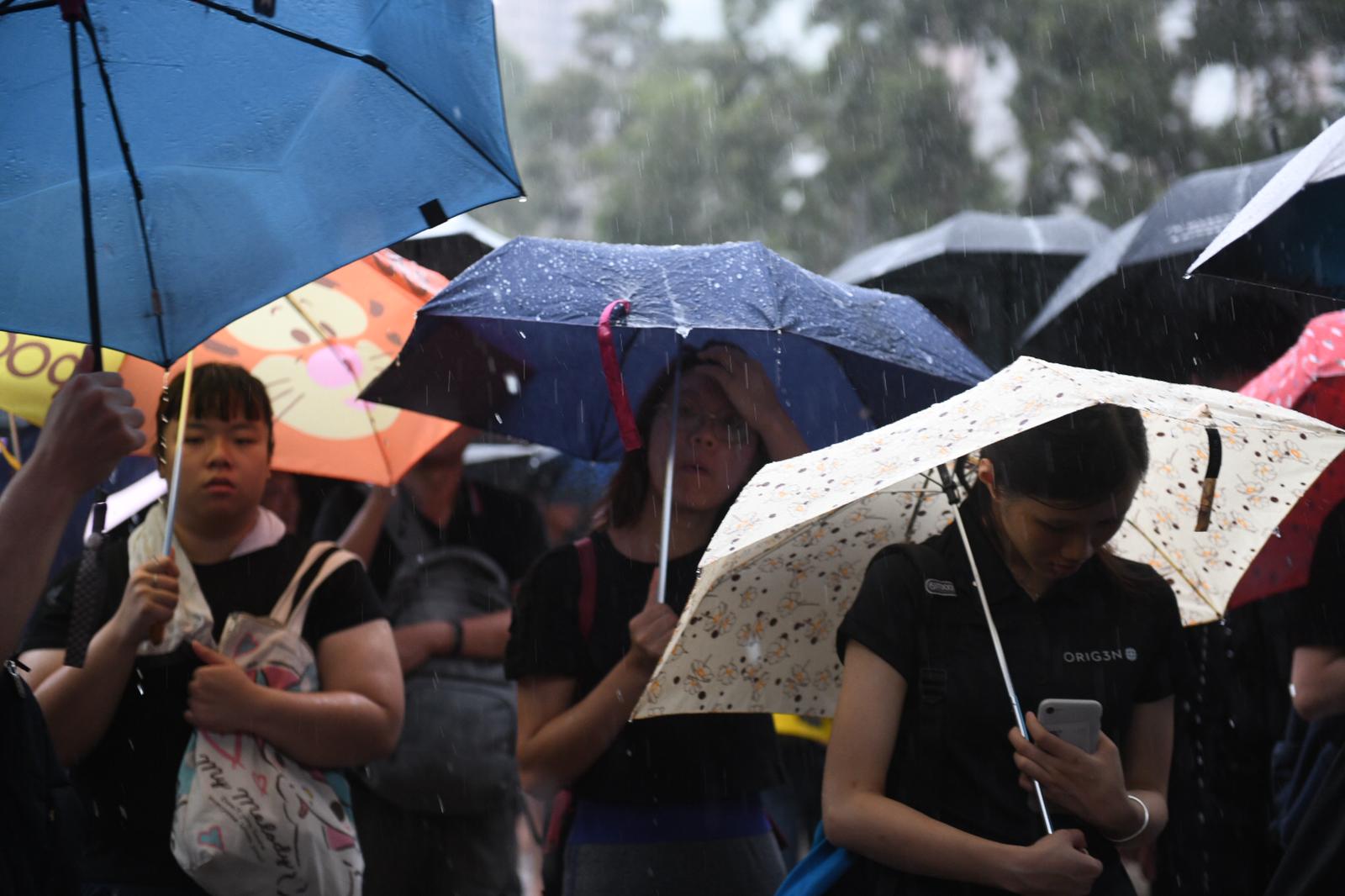 Protesters have also begun to peacefully march out of the park along Gloucester Road, carrying banners and chanting.
Protest organizers call for resignation of police commissioner
During a speech at the rally in Victoria Park, a spokesperson from protest organizers, the Civil and Human Rights Front (CHRF), called for both the chief commissioner of police and the secretary of security to step down.
"Recently we are witnessing considerable level of police brutality against Hong Kong people. People have lost faith in the police," the CHRF said.
"The original intention of the anti-extradition bill is to resist the authoritarian rule of China, to prevent Hong Kong people living under fear. However the recent reaction from the police has threatened the personal safety of Hong Kong people."
At about 3:10 p.m. local time (3:10 a.m. ET) organizers announced that the park was now full and police had closed Gloucester Road, one of the main arteries leading from the park.
What to wear if you want to stay safe in the protests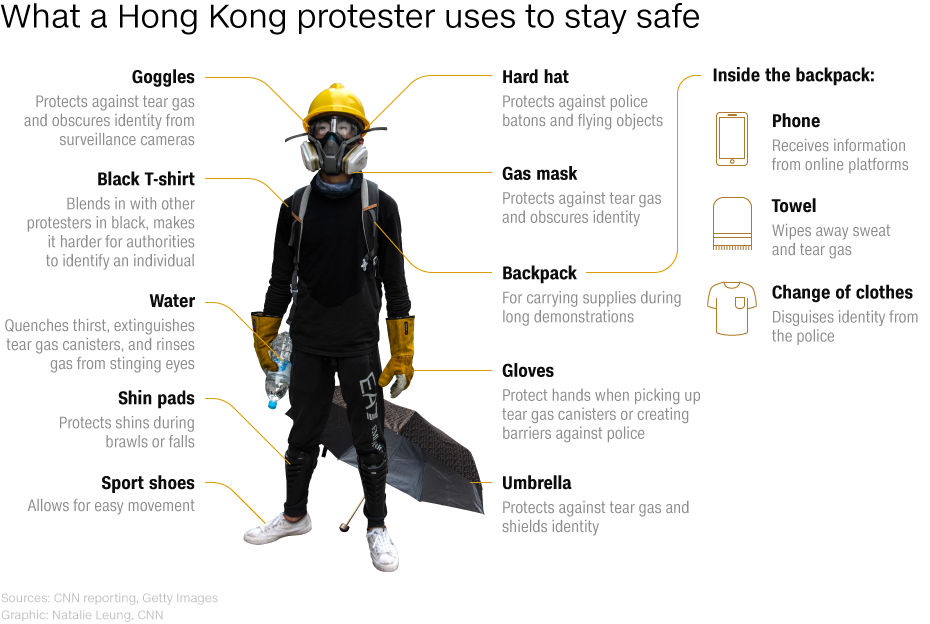 Protesters have been on the streets for more than two months now, facing off against police, tear gas, rubber bullets, and pepper spray nearly every week.
By now, the protesters -- mainly young people and students -- are seasoned pros, and arrive at protests decked out in gear. Here are some of the items to bring and wear if you want to stay safe at a protest:
·
Goggles
protect your eyes from tear gas, which irritates and burns the skin and eyes. These are also useful if you don't want to be easily identified.
·
Gas masks
aren't cheap but they provide crucial protection against tear gas.
·
Hard hats
also offer protection against police batons and flying objects -- protesters have thrown everything from bricks to plastic bottles during clashes with police.
·
Water
is a must -- heat stroke and dehydration are real threats in the sweltering summer. Water can also extinguish tear gas canister and rinse the gas from your eyes during clashes.
·
Umbrellas
have become a protest symbol, perhaps inspired by 2014's months-long pro-democracy protest, dubbed locally as the "Umbrella Revolution." They can act as shields against tear gas and unwanted cameras.
·
Sport shoes, shin pads, gloves, towels, and a change of clothes
aren't a must -- but they add small degrees of comfort during unpleasant protests.
Pro-democracy veteran: Government needs to listen to protesters
Pro-democracy lawmaker, and veteran protester, Leung Kwok-hung, who is more commonly known as "Long Hair," was among the crowds in Victoria Park Sunday.
He told CNN that he believes more than 1 million people will join today's rally.
"I think the majority of the Hong Kong population demand there be an independent investigation about all the conflicts and legislation of the extradition law," he said.
"The first thing the government needs to do is to listen to the people and do what they demand."
Police have not given permission for protesters to march out of Victoria Park to Chater Garden in Central District as planned, raising the possibility for clashes if groups to decide to push ahead.-CNN