"Nirav Modi, Lalit Modi, Narendra Modi… how come they all have Modi as common surname? How come all thieves have Modi as common surname?" : Rahul Gandhi during a rally in Karnataka ahead of 2019 elections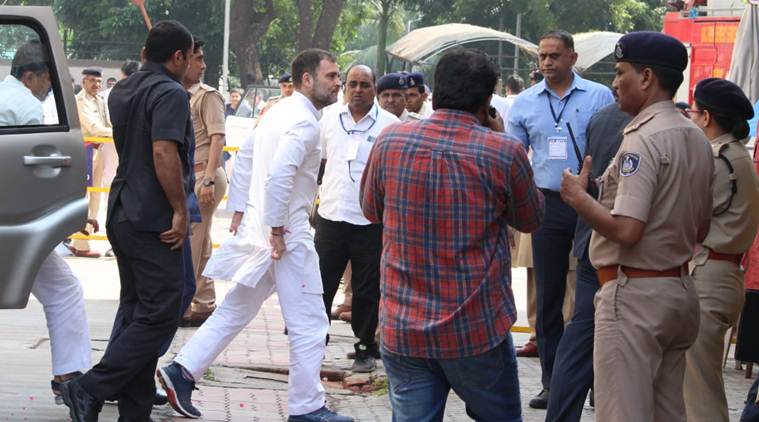 Rahul Gandhi outside a court in Surat, Gujarat on October 10, 2019. (Express Photo: Javed Raja)
Congress leader Rahul Gandhi appeared before a Surat court on Thursday in connection with a defamation case filed against him by BJP MLA from Surat West Purnesh Modi. He told the court he was aware of the charges levelled against him and pleaded not guilty to the same.
The case pertains to a statement made by Gandhi during a rally in Karnataka ahead of the 2019 Lok Sabha elections. Gandhi had said, "Nirav Modi, Lalit Modi, Narendra Modi… how come they all have Modi as common surname? How come all thieves have Modi as common surname?"
The BJP MLA said in his complaint that Gandhi defamed the entire Modi community with his statement.
During the hearing, Gandhi's lawyer Kirit Panwala filed an application for his permanent exemption before the court, which was objected to by the complainant's lawyer Hasmukh Lalwala. The court has fixed the next date of hearing on December 10 — Gandhi is exempt from appearance on this date.
Following his appearance in court, Gandhi tweeted: "I am in Surat today to appear in a defamation case filed against me by my political opponents, desperate to silence me. I am grateful for the love & support of the Congress workers who have gathered here to express their solidarity with me."
A large number of Congress workers had assembled outside the court premises during the hearing. Several of them stood along the road and sprinkled petals while Gandhi's vehicle passed. After the court procedure, Gandhi left for the airport.
The complaint is filed under Sections 499 and 500 of the Indian Penal Code (IPC), which deals with criminal defamation.
Defamation cases against Rahul Gandhi
There are three defamation cases against Gandhi. Apart from the one being heard Thursday, he is booked for called Union Home Minister Amit Shah a "murder accused", and for claiming that the Ahmedabad District Cooperative Bank, in which Shah is director, was involved in a scam during demonetisation. He is expected to appear before a court in Ahmedabad in connection with the demonetisation case at 3 pm on Friday.--IE